With the technological ease of "following" people, we have access to all kinds of resources and individuals. We don't just read someone's books; we're "friends" with them. We tweet a quote, and they favorite it, or better yet, retweet or reply. We get to know their families through Instagram photos. We follow their journeys of celebrations and heartaches. We live life alongside them…or at least, that's what it feels like. We pray when they announce they have cancer. We grieve when their marriage falls apart. We get defensive when a critic attacks them.
We don't have to wait for the new book to come out; we sat through the writing process with them as they blogged. We preorder every book they write. We attend a conference because they are speaking. We listen to their messages online. Is that so wrong?
It's not just the "famous" people we follow. Look around. Who do you follow at church? Work? In your community? In your family?
Who carries significant weight in your life?
Not sure?
Ask, "Of all the people who ask me to do something, who am I most likely to say 'yes' to without hesitation? Of all the people who give me information, who am I most likely to believe without question?"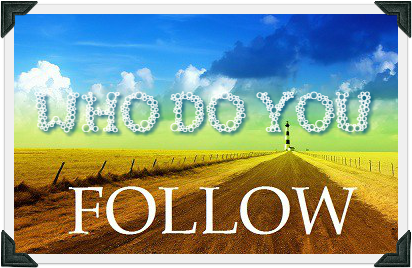 Following people isn't wrong. God uses others to teach, challenge, and hold us accountable. However, we can become disciples of the wrong people, or of the right people for the wrong reasons. Take an inventory of how healthy your following is.
Who would you support no matter what? Do you have a difficult time believing anything bad, especially unsound teaching, about someone? When others are attacking someone, do you unconditionally support him or her, or do you try to get to the source of the debate? If you're willing to set your discernment aside, you need to take a step back.
Do you try to keep up with the newest, up-and-coming leaders? Getting fresh perspectives and making new connections can be great. However, if you mainly want to be "in the know" and quickly jump on the thought-leader bandwagon, you need to take a step back and check your motives. Be sure your discernment is turned on, so you can determine who is follow-worthy and who is not.
Do you refuse to pay attention to anyone "new," sticking with the "tried and true" instead? At some point, your "tried and true" person was new, too. Maybe the person you're sticking with is firmly rooted and consistent. Or perhaps, he or she affirms what you most want to believe. You don't want to change. You don't want to be challenged. So, you stick with who is safe to you.
Do you get into arguments about who is follow-worthy? More importantly, do you dishonor people with your stubbornness in the process? Sometimes, we follow different people because God knows what and who we need through various seasons. We don't need to let our differences separate us from people. Sure, it's important to have conversations about the foundation of people's teaching, but we need to respect each other through our interactions.
What is your primary source of devotional and teaching content? If you read more books and listen to more messages about God than you seek and listen to God Himself, take a step back. You don't need to get legalistic about it and spend at least 51% of devotional time in God's Word every morning before moving on to another resource. However, if you don't regularly establish God as a firm foundation, when you need to filter something or someone through God's Word, your filter will be too clogged with extracurricular content.
So, who do you follow, and why? What changes do you need to make today?