In my high school Persuasion and Control class, the teacher quietly distributed sheets of paper, then instructed us to work on our own to answer the questions on it:
Who is "we"?
Who is "they"?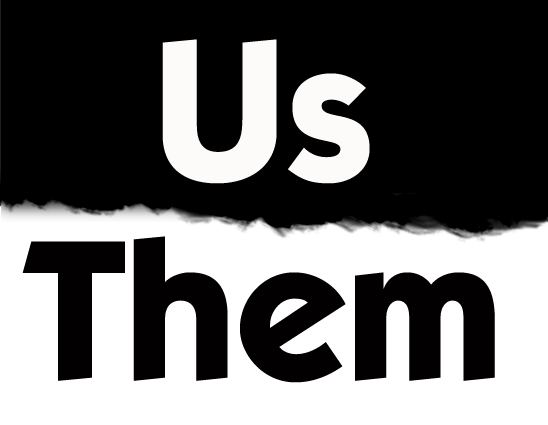 We (and probably they) use those words often, but what do they mean? There were a few other questions on the assignment, but they all stemmed from these two. After several minutes of personal reflection, we began discussing, and it was one of the most animated, perspective-changing, convicting class times I remember from high school.
Our world was small at the time, but it didn't seem that way. We had groups in high school, as I assume most do, and the open discussions about what we thought about ourselves, what we thought about others, and what we thought about what others thought about us surprised and unsettled us. The internet was just beginning to creep into our daily lives, so we didn't have access to as many viewpoints as people do now. But I'm not sure that would have mattered.
After all, we have access to a lot of information now; we can easily get to know people around the world or around the corner who are very different from us. Yet we still separate ourselves. Separation helps us feel protected, worthy, and justified. It helps us determine our identity, as we often deteriorate others'.
"We" still define "us" and "them."
So now, may my Lord's power be magnified just as You have spoken: The Lord is slow to anger and rich in faithful love, forgiving wrongdoing and rebellion. But He will not leave the guilty unpunished, bringing the consequences of the fathers' wrongdoing on the children to the third and fourth generation. Please pardon the wrongdoing of this people, in keeping with the greatness of Your faithful love, just as You have forgiven them from Egypt until now. (Numbers 14:17-19)
We get reassurance from the promise that God "will not leave the guilty unpunished," and we apply it to the "them" in our lives, often a "them" we categorize and distance ourselves from. It's easier to make accusations from a distance. When we get close, we realize just how human people are, and as we invite others to get close to us, we remember just how human we are. When we listen to someone's story, goals, concerns, hurts, humor, and questions, we see over the wall we've built. We climb a ladder built on humility, compassion, mercy, and honesty, and we catch a glimpse of fellow humanity. We see that we have much in common with "them."
Really, there is little difference between us and them.

The guilty who have gone unpunished? We are them.
We sometimes focus so much on the promise to punish the guilty that we forget the context of this promise, which also includes the reminder of God's  slowness to anger and richness in faithful love. Yes, God is just as much those things to "them" as He is just. He is just as much those things to "us" as He is just.
In these verses, there is also a humble plea for God to pardon "their" wrongdoing, asking for forgiveness for "them." But it's not a blaming, condemning plea. It's not an assault on "them." It's a plea to God. There is no finger-pointing, declaring that YOU need God's forgiveness. It's such an intense compassion, gentleness, and mercy that we go to God on their behalf first and foremost, continually and confidently. We tear down the wall between us and them so that we stand and speak on their behalf.
The only way we will display civility and embrace humility in a combative world is to wrestle through what God intends for us in each relationship, situation, and difference. Humility isn't a one-time choice of obedience followed by a string of assumptions and justifications. It's a relationship, continually getting to know God and trusting Him enough to follow Him well. Following includes questions, doubts, struggles, reworkings, boldness, meekness, courage, patience, and gentleness. It's focusing less on the difference between us and them and more on the gap between us and God. In humility, we glimpse how close we can get to God and are not content to let our own preferences and agendas get in the way. We see how big that gap is and we long to shorten it. In humility, as we focus on God, we begin to realize how close we are to "them," and we begin to passionately bring them into our lives to sit the table together, face to face and heart to heart.