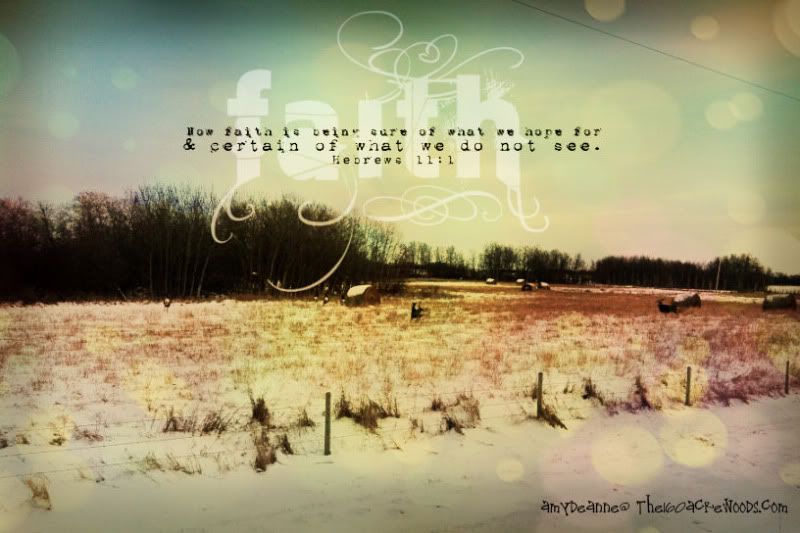 Hebrews 11:1
I love the way the NIV words this verse ~ it just really brings to light how much we need faith.
This is probably somewhat of an oxymoron, but follow me for a moment if you will.  If you look closely at this picture you can see all the deer prancing in the field ~ there was at least a dozen or so around at the time.   Driving this dirt road I am familar with where the deer like to be and am cautiously checking the ditches when I drive ~ But
1). That skill took me many years to learn  how to be careful watch for and not  "hit" the deer when we're driving at dusk around here as they blend perfectly into the surroundings.
2.) The average person can not and does not notice these things – I laugh as I write this thinking of the international student who is currently staying with us and how she yells "wow" when I point a coyote, deer, skunk, fox or other animal in the field ~ she doesn't see any of them – she is unpracticed.
This reminds me so much of faith and the verse I choose above- Faith is a lot like that ~ we can't always see how God is working around us BUT when we concentrate we know HE is here and is actively working in our lives.   I think if we are careful and keep our eyes wide open we adjust our sight (like you need to when you live in the country or say night drive) and see these "unseen" creatures we become more aware and realize just how much we've missed – just like we would miss if we don't rely on Christ.
Okay, not sure if I've made sense, but hope I have!
Peace!
***********
Welcome to WFW!
There are very few rules, in fact the beauty of this ministry is the creative expression that God reveals Himself thorough. We marvel at the creativity that participants post with this meme. We encourage the " post behind the picture," or the reflections that many of the participants share. We ask that non-biblical resources not be used.
WFW is not about books, authors, artists.. it's about God and HIS WORD ONLY. WFW is about celebrating the gift of creativity through God's Word.
Join myself and some other wonderful ladies as we share by signing into to the Link below!