______________________________________________________________________________________________________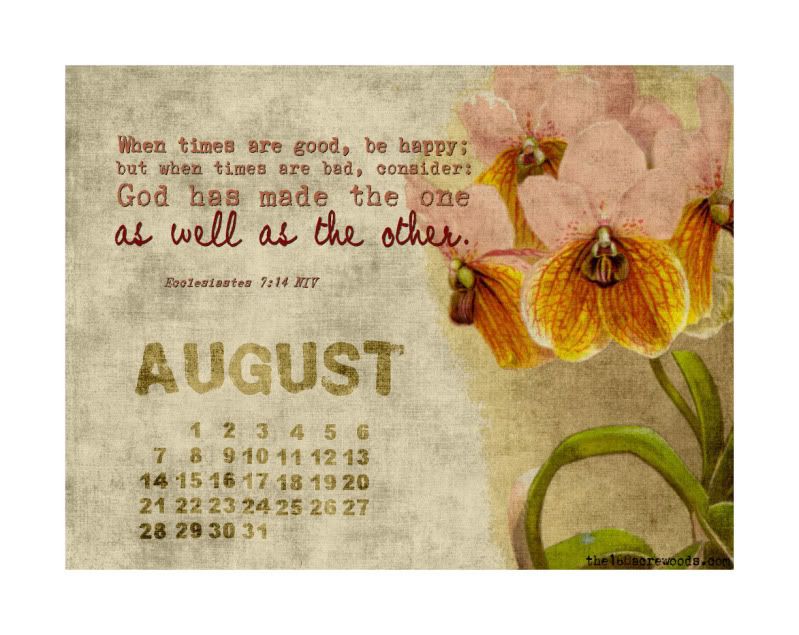 When times are good,
be happy;
but when times are bad, consider:
God has made the one as well as the other.
Ecclesiastes 7:14 NIV
*******************
How many times do we blame God for our bad days? But forget to thank Him for the good ones? He's made both and He is with us for both of them.
He was there when you lost the baby.
He was there when your marriage fell apart.
He was there when your child disobeyed you.
He was there when your were betrayed.
He is with you during your struggles.
We can rest assured that He will continue to comfort us, guide and love us — if we take time to get to know Him. How do we do that? By digging into His word!
Lord, please bless my sweet sisters today as they struggle with life and the ups and downs of it. May you reach out and give them an extra blessing today. We love you so much Lord.
Amen.
Feel free to download this desktop calendar to your computer, just right click on it and "save as" to save on your own computer.
========================
Welcome to WFW!
There are very few rules, in fact the beauty of this ministry is the creative expression that God reveals Himself thorough. We marvel at the creativity that participants post with this meme. We encourage the " post behind the picture," or the reflections that many of the participants share. We ask that non-biblical resources not be used.
WFW is not about books, authors, artists.. it's about God and HIS WORD ONLY. WFW is about celebrating the gift of creativity through God's Word.
Join myself and some other wonderful ladies as we share by signing into to the Link below!