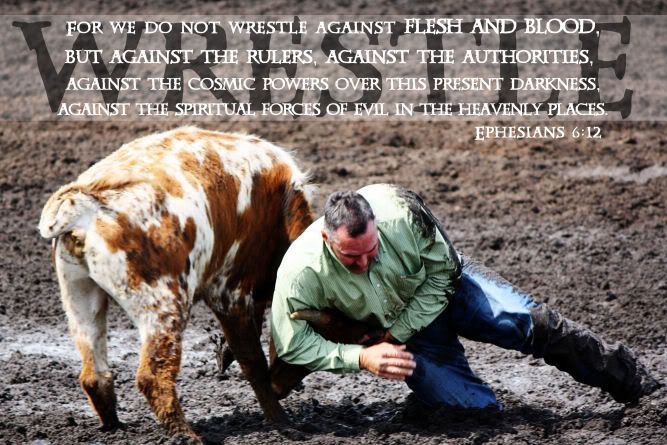 For we do not wrestle against flesh and blood, but against the rulers, against the authorities, against the cosmic powers over this present darkness, against the spiritual forces of evil in the heavenly places.

Ephesians 6:12 ESV
Have you ever walked a man try to wrestle a cow? It is quite breath taking – he has to wedge himself and put all of his energy into it; there is not stopping for breath, its all or nothing kind of fight. That is how our spiritual war is – we need to be putting our ALL into our fight against our flesh no matter how many times we seem to fail because there is more than just a small fleshly battle being fought – it's the fight for our souls and our children's souls.
========================
Welcome to WFW!
There are very few rules, in fact the beauty of this ministry is the creative expression that God reveals Himself thorough. We marvel at the creativity that participants post with this meme. We encourage the " post behind the picture," or the reflections that many of the participants share. We ask that non-biblical resources not be used.
WFW is not about books, authors, artists.. it's about God and HIS WORD ONLY. WFW is about celebrating the gift of creativity through God's Word.
Join myself and some other wonderful ladies as we share by signing into to the Link below!